Hello all,
With the new look forum I thought it overdue time for a thread on the TR7, but as the original build threads have been lost to old age, I thought I should start with a recap.
Back in 2004 my wife and I decided we needed a bigger house and of course the most important bit for me was that it had to have a garage, eventualy we found the perfect house, lots of off street parking, nice neigborhood and of course, no garage! But there was room for one to be built. So I did the sensible thing and in 2005 went searching for a project car (still no garage yet!). The brief was simple. It had to be retro, soft top, good spares supply, fun and above all CHEAP. The choice boiled down to either a Triumph Spitfire or TR7. And I cant get out of a Spit!
A couple of weeks searching on Ebay and the "perfect" car turned up. 1980 DHC in rattle can green, complete but rusty as hell.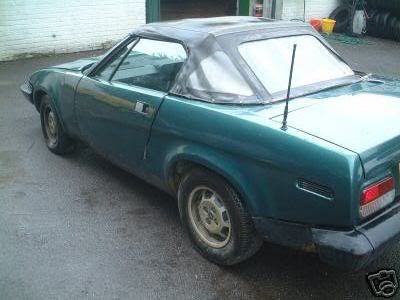 £150 later it was mine. Nothing worked, lots of bits had been unbolted and then been refitted with the bolts finger tight or less, lots of parts were in the boot, and it got worse. It was FULL of filler, repair patches had been welded on to get it through MOT's but I was able to pull them off with my bare hands and panels were crumbling to dust in my hands. BUT. I can weld and Ebay was well stocked with repair panels.
This;
became this,
This;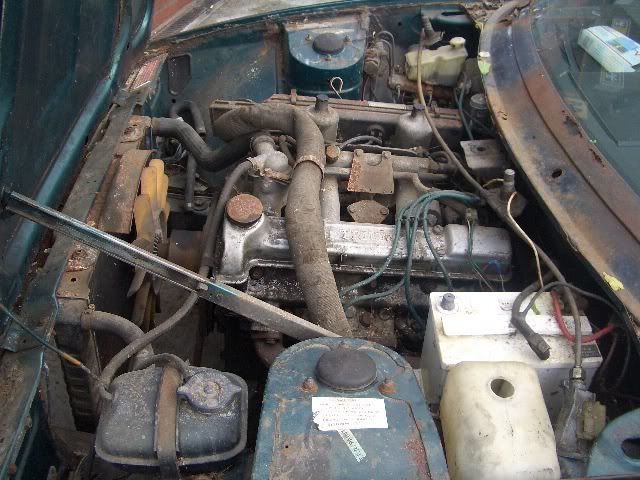 Became this;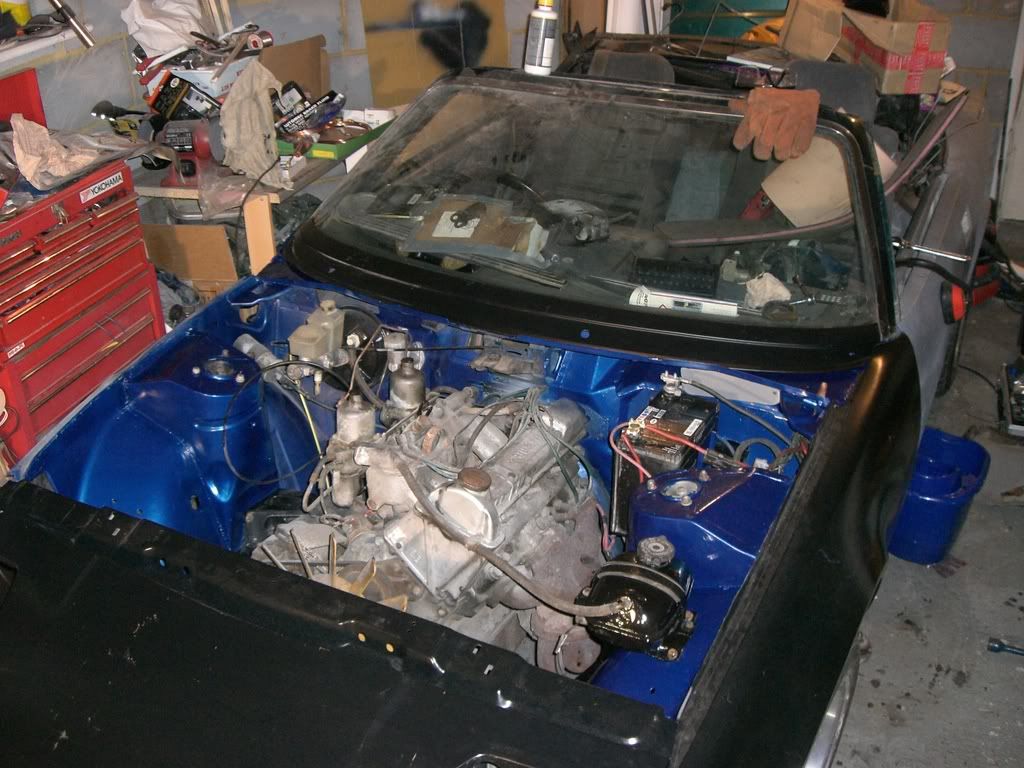 And I got the engine running.
3 years later it pulls into the MOT station looking like this.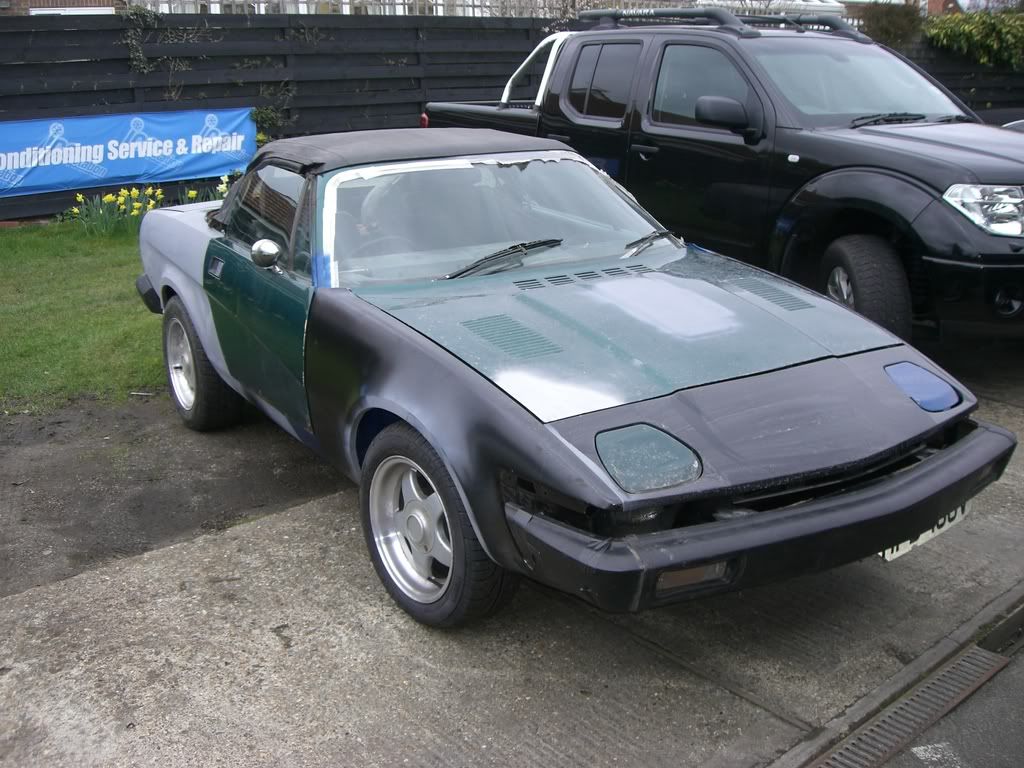 Finally legal I drove it around for a few weeks just to make sure it was ok and then I started to prep for paint. With 3 weeks to go to the 2008 Retro show at Santa Pod it needed some colour. This was my first attempt at 2k, the front half of the car went ok, a bit dry in places but I was proud of my first effort, the back half was a disaster - it had a texture like 80 grit sand paper. But I had no time left to re do it, A mate and I fitted it up the night before the show, the following morning it recieved its first oil change and I was off.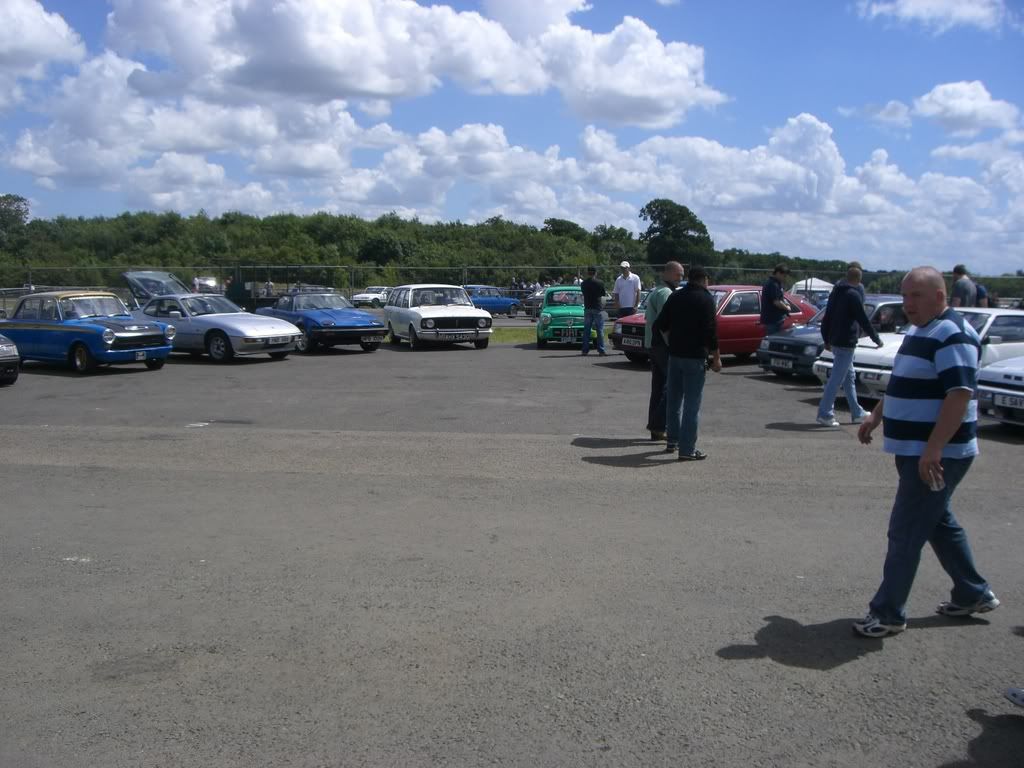 Safely there and back again, tyres rubbing in the arches, worrying bangs and crashes and the roof flapping in the breeze!
In the next 3 weeks I redid the drivers side rear wing and door and got a good result, and then drove it to Yorkshire.
For the next 2 years I didnt touch the paint but fitted a Sprint 16v engine, sorted out the worst of the knocks and bangs, bigger brakes and lots of lowness. September 2010 saw me paint the bonnet and it came out ok. By 2011 I was starting to notice a bit of ware and tear on the body, a few nicks and dings here and there but it was ok for a car I used rather than garaged.
At the 2011 Retro show it was on the Triumph stand along side some very pretty and powerful cars.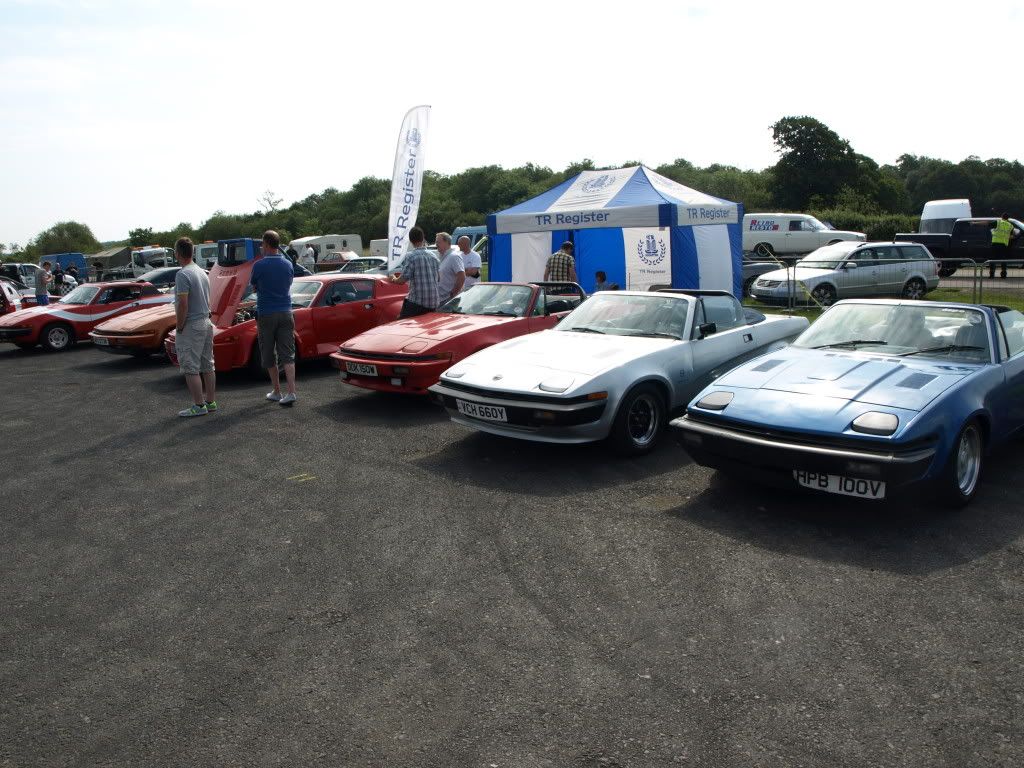 And was even pictured in Retro cars Mag.
But after the show I found a significant dent! in the panel I was most happy with !!
Well that was It, Time for a refurb.
So the list of jobs to do:
Fix the dent
Fix the blown filler on the NSR wing and weld in a blank for the running light.
Sort out the front wing to bonnet panel gaps on both front wings.
Sort out all the rough areas of body, wing lips, sills and inner wings.
Paint the whole car
Paint the centres of the alloy wheels (dark grey with metal flake???)
Make new door cards.
Re do the carpet.
Fit the new hood I bought last year.
I have made a small start.