The build of this car reminds me of the story of the old man who was asked directions by a passing stranger.
"Oh, if you want to go there I wouldn't start from here" he replied!
It left the Linwood factory as a 1600GLS in Seville Orange with a brown interior trim, and being a GLS also had the rare bronze sundym tinted glass. When I first saw the car I wanted it mostly for the bronze glass to use in my Moonstone Blue Sunbeam Lotus shell, and possibly some other spares.
I had it towed home, washed it once, and pushed it into a corner of my garden until I had a chance to get a look at it. In the meantime I was working away from home and abroad regularly, and for other different reasons just never really got around to doing anything with it, and so it just sat there.
More than ten years had passed by the time I finally got around to taking a closer look at it, and despite living within a few miles of the factory where they were built and were once commonplace these cars were now extremely rare and thin on the ground. I still wanted the glass for my Lotus, but considering its time in the garden without a battery the upper panels of shell weren't in as bad a state as I imagined they might have been, and despite obviously needing a lot of work it seemed a great shame to dispose of it.
By now the front of the car was almost completely covered over by a bush, and a self-seeded tree had grown through a hole in what was left of the front floorpan and completely filled the interior. A bush saw was used to cut through its 3" trunk under the car to allow it to be dragged into the garage for a
closer inspection.
From mid doorskin height downwards things weren't so promising. Everything was totally rotten and I wondered how it had survived being towed out of the undergrowth. As I began stripping out the interior I was seriously concerned that it fold in half under my weight.... all that was really left of any floor structure was a small piece of the transmission tunnel! I now wish I had taken some photos of just how bad the shell was at this stage.
After stripping out I welded some temporary bars across the door openings to try to keep some strength in the shell structure and began cutting out/ off the old rusty remains.
Parts that were extinct and needing replaced were:-
Both inner sills
Both outer sills
Rear corners of both rear floorpans
Both front floorpans
Both front chassis legs
Front valance
Lower rear panel
Headlight boxes
Both front wings
Both rear wheel arches
Both outer wheel tub sections
Both rear chassis legs
Spare wheel well/ boot
Both front chassis outriggers
Both rear suspension lower arm mountings/ outriggers
Lower rear inner quarter panels
And in addition repairs needed to:-
Both inner panels/ wings at bulkhead and around strut top mounts
Front crossmember
Front of bulkhead
Lower edge of heater plenum
Bottom 6" of both 'A' posts
Edges of scuttle panel at windscreen corners.
Both 'A' post to roof joints
Bottoms and tops of both flitch panels
Rear O/S roof corner
Front O/S of roof above drivers door
Rear quarter panels along top edge, lower fronts, lower rears, and around arches.
Bottoms of both doors
Lower sections of both door skins
Rear of O/S inner rear quarter
Rear of both inner rear wheel tubs
With hindsight many of the above panels were still available as the Sunbeam is based on the Avenger, and the Avenger was still being produced in Argentina until 1992 so imported spares are often still available through specialist suppliers. I didn't know this at the time though and with the exception of a pair of Avenger replacement sills which were shortened to fit, everything was going to have to be made from scratch patterened or templated as best as possible from memory of the originals. Luckily my previous work involved sheet metal and tubular fabrication, machining etc, and my attitude was that if it was made in metal I could make another one!
As I said in the Newbie introduction, I'd always wanted to build a Group 4 tarmac spec works replica, and this shell was beginning to look like the one to base it on as it would have needed to be cut about a bit to prepare it like that anyway. I won't go back over the reasons for the choice of engine again here, but to live up to its looks I decided to install an all-alloy 3-litre 24valve B6304 straight six mounted as far back in the chassis as possible to make space for a front mounted intercooler and turbos and plumbing to the offside of the engine.
Here the shell is upside down for ease of working on some of the areas of the floorpan and undersides...
.... by this time I have made and fitted the new inner sills and partly formed the front floorpans as well as forming the front chassis legs from rectangular hollow section box which makes them stronger than original. the lower front panel is just starting to be formed and is so complex it had to be made in six separate pieces and joined together.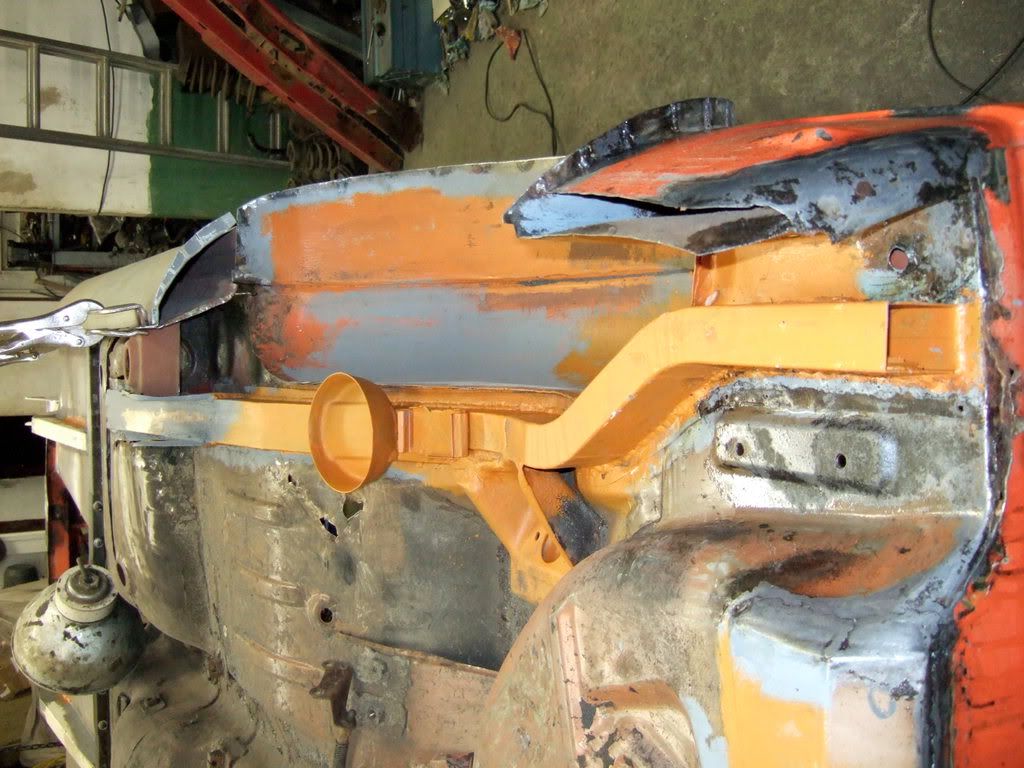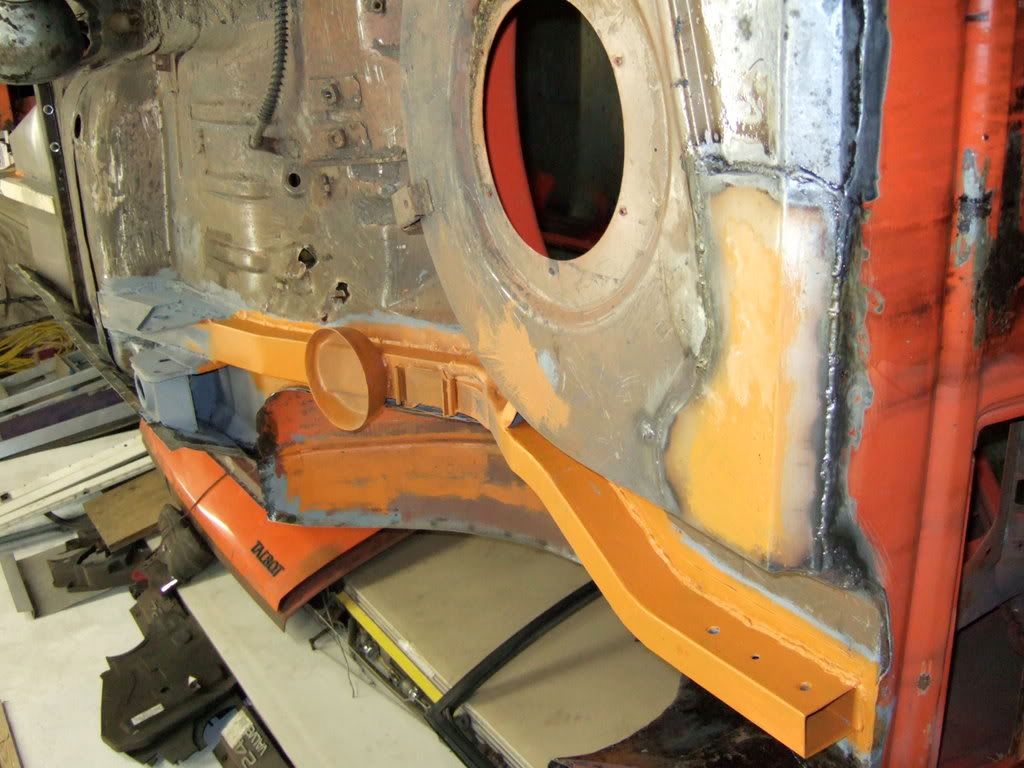 The rear chassis legs are made in a similar material but are much more involved with bends, offsets and section changes to complicate things. Time consuming to fabricate but the end result is very strong. The rotten lower rear panel is cut away and both rear inner arches, quarters and tubs have been altered to suit the planned axle/ wheel/ tyre combination. Boot floor repaired and about to fit outer sills.
Right way up again, trial fitting of rollcage and engine / gearbox placement. Almost ready to form new bulkhead and transmission tunnel....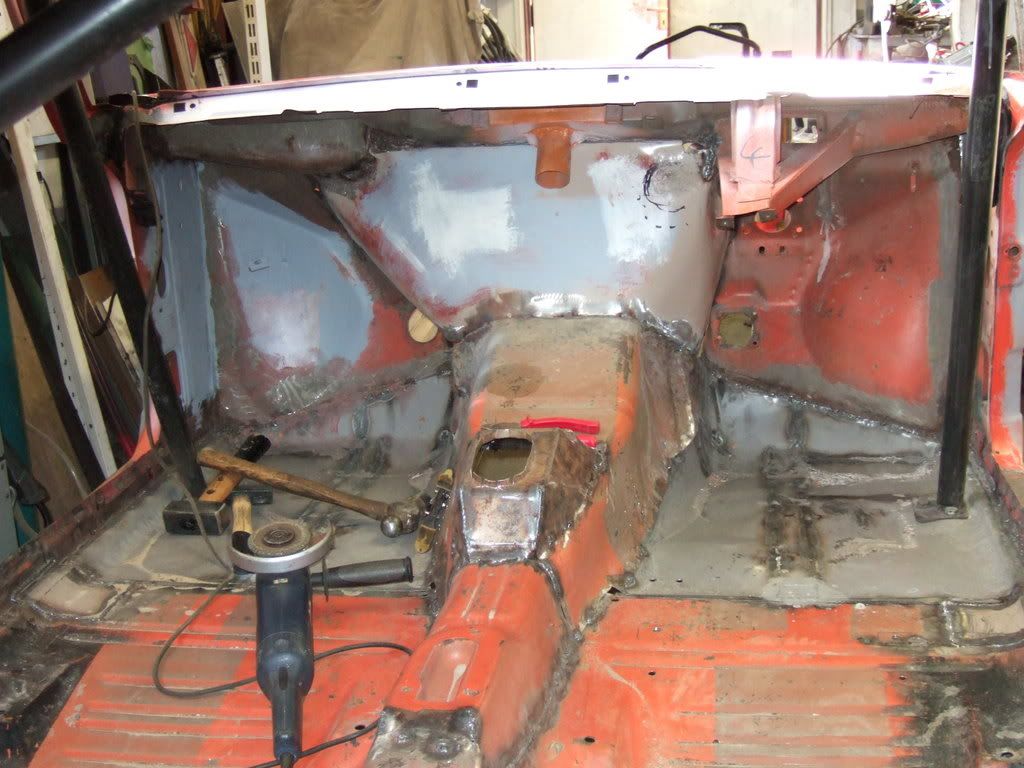 ...and prepare.
Although the production Lotus uses an axle almost identical to all other Avenger/ Sunbeam models, the works cars used a Salisbury (Jaguar) axle. As I would be putting some extra grunt through the axle later I decided to use the bombproof Volvo 960 estate live axle which comes as standard fitted with an Eaton G80 mechanical locking differential. The Sunbeams standard 4-link and coil spring rear suspension works really well, but relies on deflection of its bushes to allow axle movement. I decided to locate the new axle with my own design of parallel motion 4-link and panhard rod arrangement instead using standard boxed lower arms. The new chassis mountings and channels to clear the RHS upper links can be seen here as well as the chassis panhard rod bracket...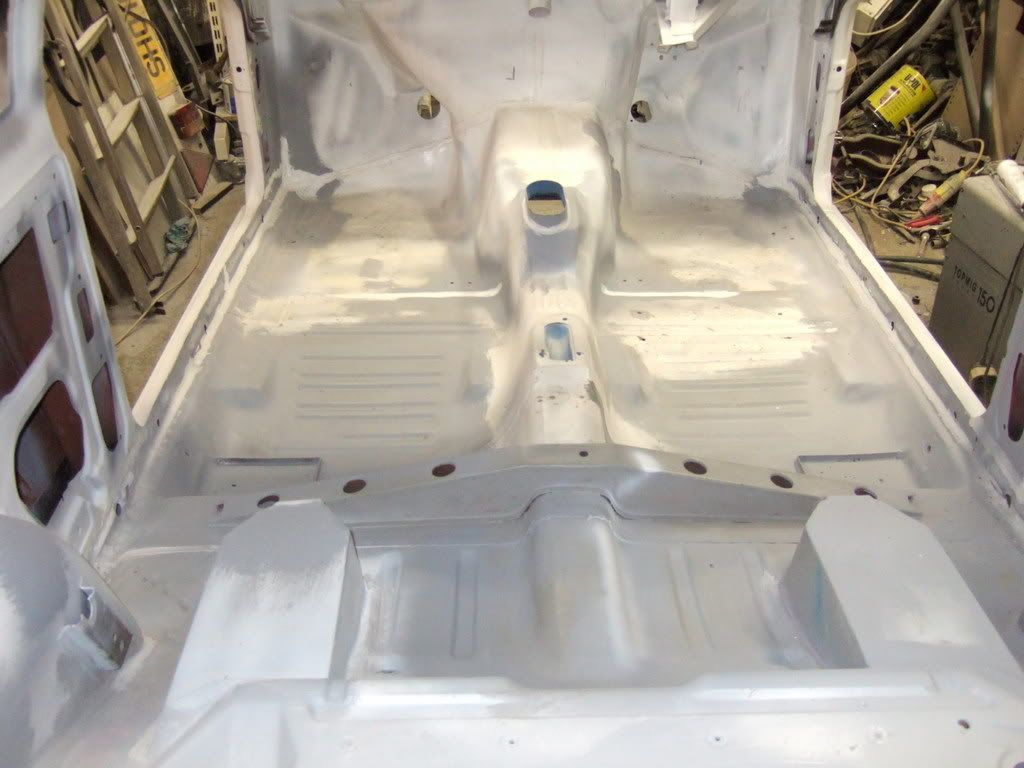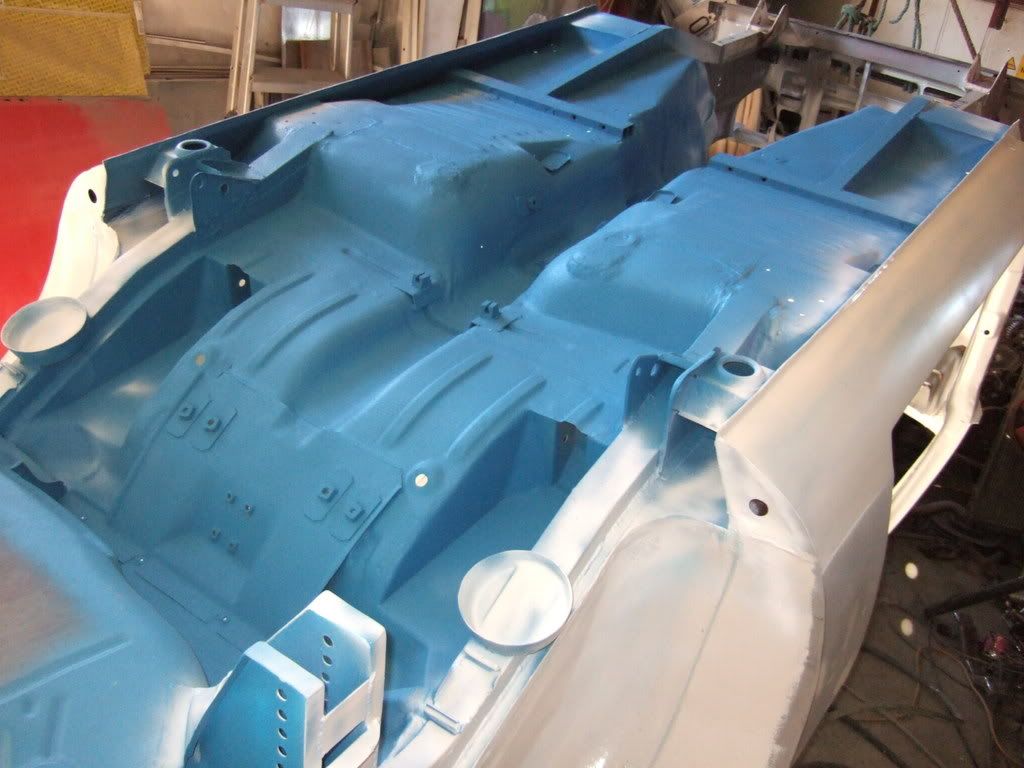 With the car being built for sprints and hillclimbs I wanted to be able to fit alternative wide rims and slicks under the arches, and allowing room for more wheel backspacing was partly why the 960 axle that is 125mm wider than standard was chosen. In combination with the offset of the 9.5" rear Minilites this meant that the tyres would not fit under standard GP4 Sunbeam arches, and so templates were taken from an original set and replicated in sheet steel but with twice the normal width...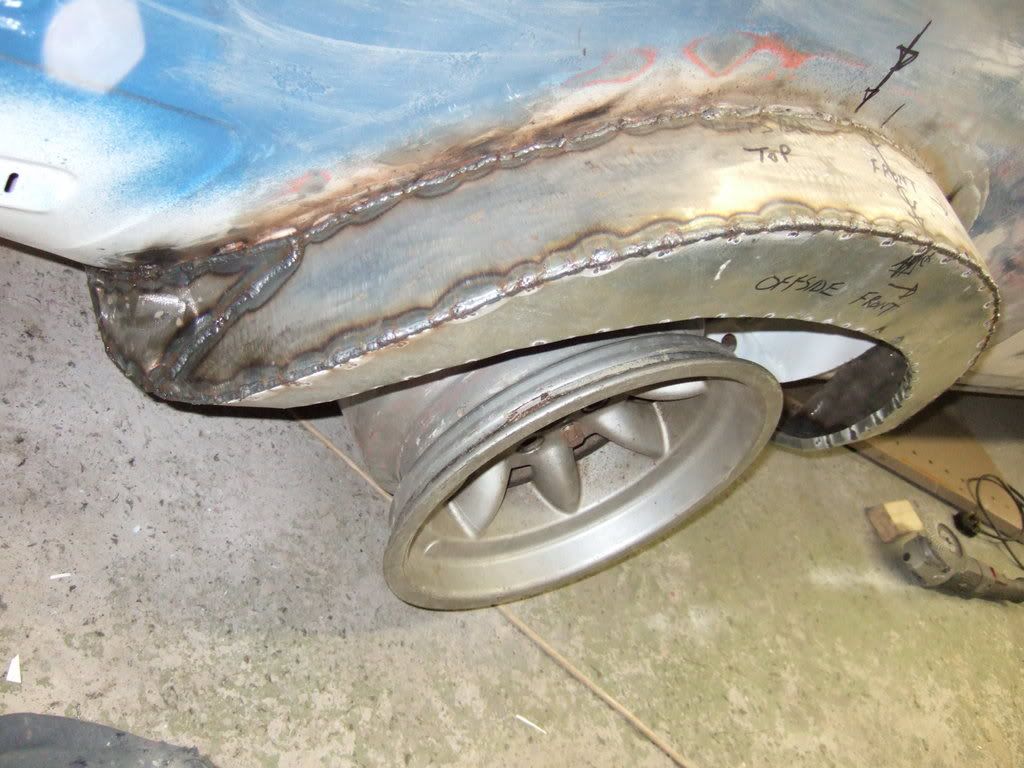 This would have meant that the rear track would have been significantly wider than the front, so the front inner wing suspension mounts were modified and strengthened to move them outboard by 45mm each side. New track control arms which were 50mm longer than the originals were designed and fitted as well as modified drag links and brackets, and longer track rods which would together allow the use of wide front slicks without introducing bump-steer. This meant that double width front arches also had to be made. Although a little heavier than the equivalent alloy works arches, the steel versions could be welded rather than rivetted in place which not only looks a bit better in my opinion but adds a tremendous amount of strength to the shell....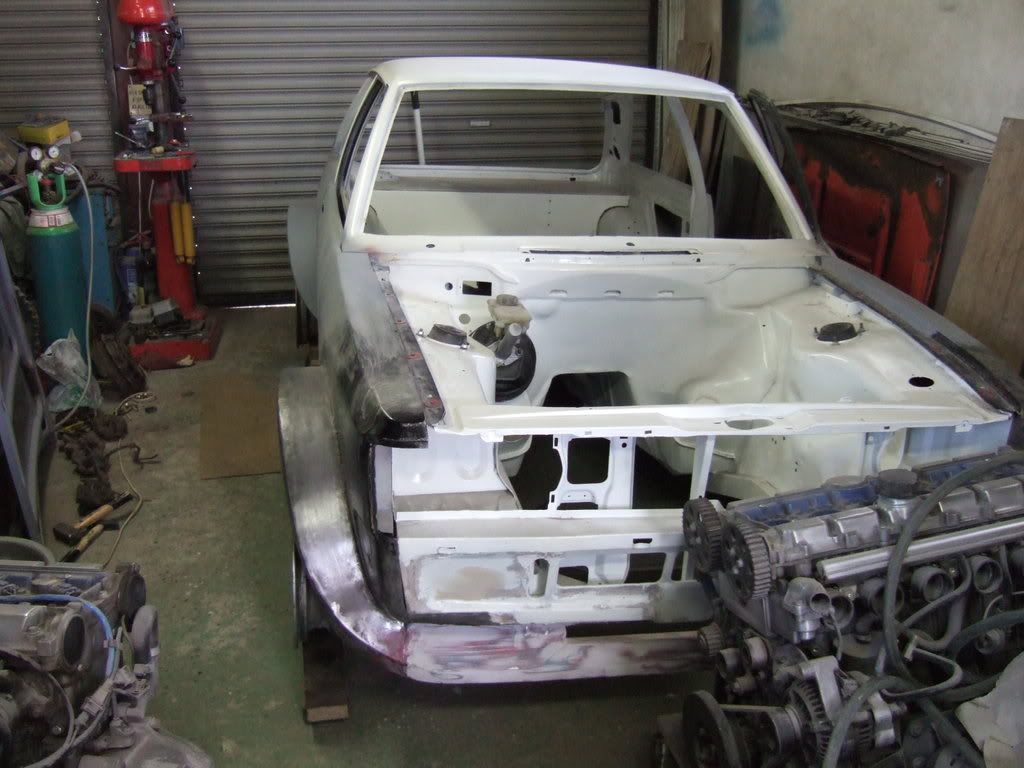 While I'm quite happy with bodywork, fabrication, machining and mechanical engineering type of work, beyond the prime and preparation stage my painting skills don't stretch much beyond recoating the garage floor. This is reflected in the quality of the paint finish, but it is meant as a useable road/ competition car after all and is likely to need regular attention, so it would have been crazy to have paid for a top quality professional paint job.....
...Still, good enough for the purpose.
The fuel tank couldn't go in the normal place because of the panhard rod and early works type dual exhaust system, so a new 90 litre tank was made from sheet steel and located within the aluminium enclosure below the rear hatch, with the battery in the smaller section on the nearside.....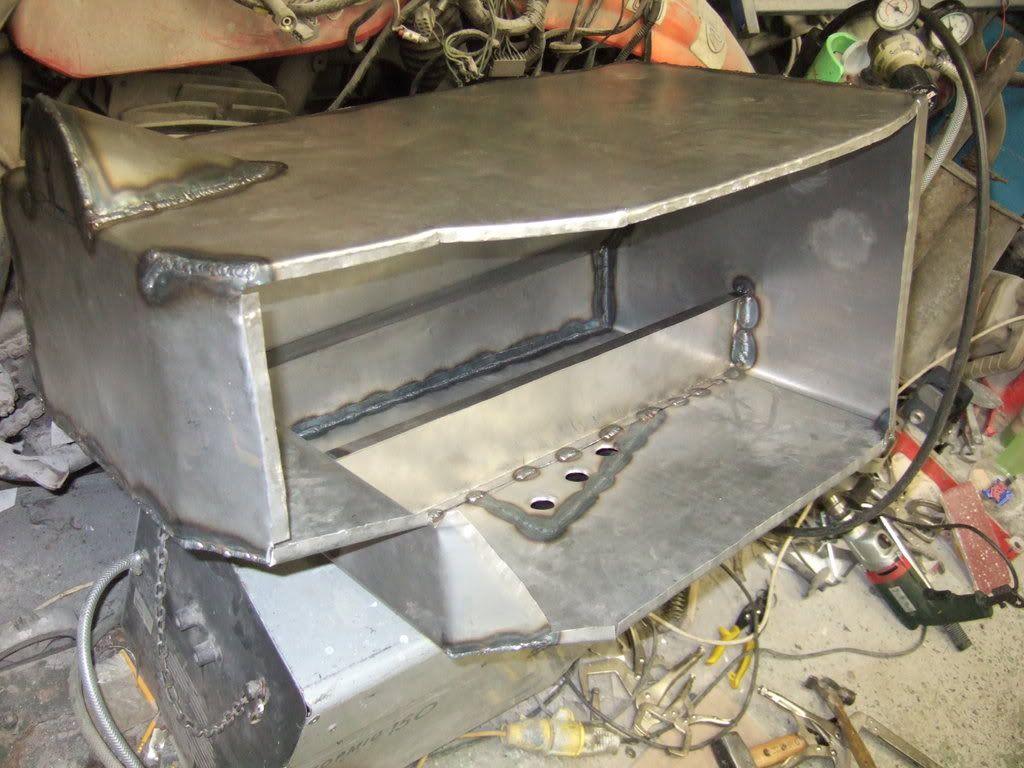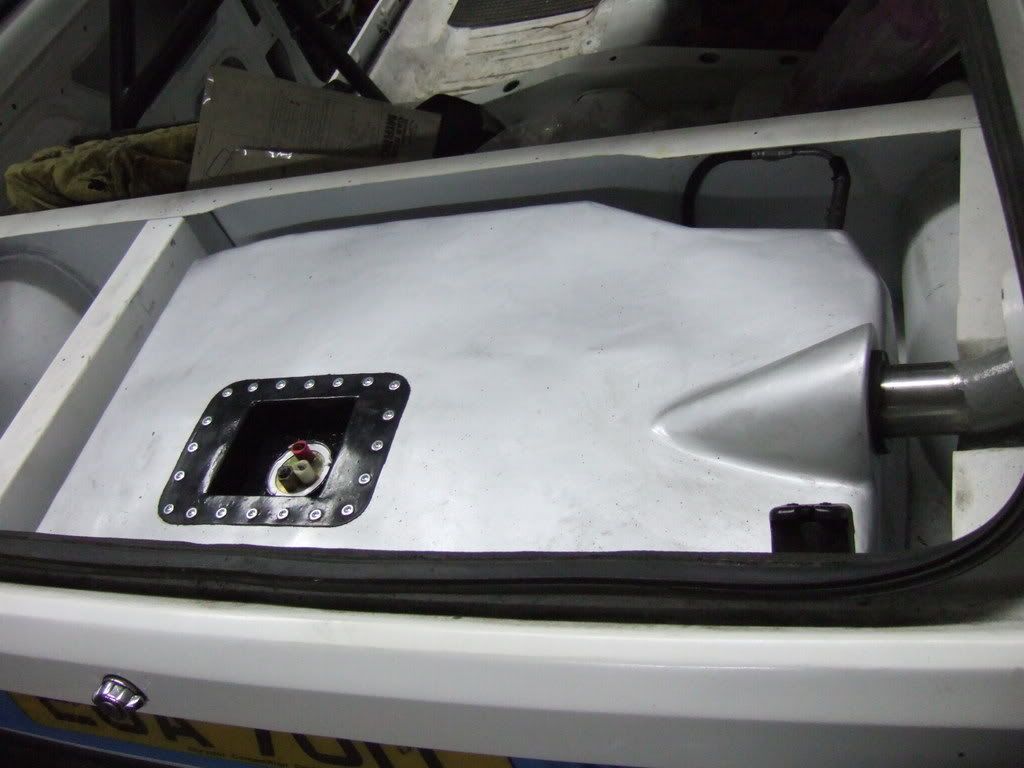 The 'almost stock' stage one normally aspirated engine which will be used to shake down the chassis, coupled into an M47 gearbox and hydraulic clutch via an alloy adapter plate. Just after final test run to check for leaks etc before installation....very smooth and sounds nice....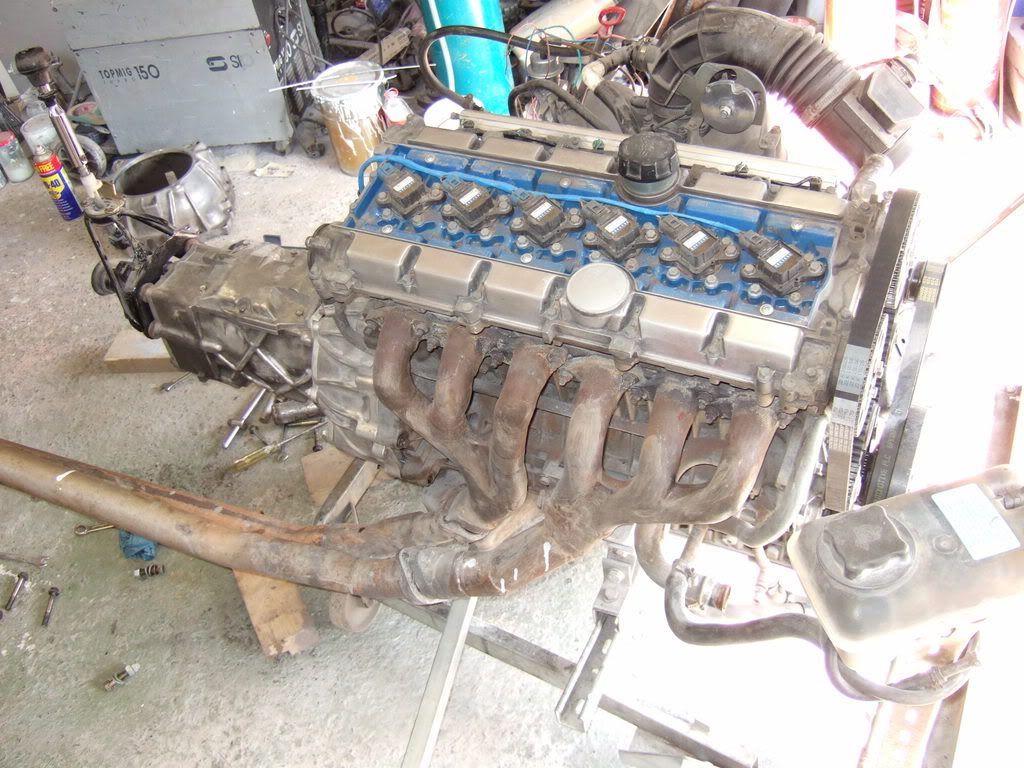 ...completion of home brewed dual 2" all stainless steel tig welded exhaust system using standard Audi 80 stainless silencers.... no catalytic converters fitted or required....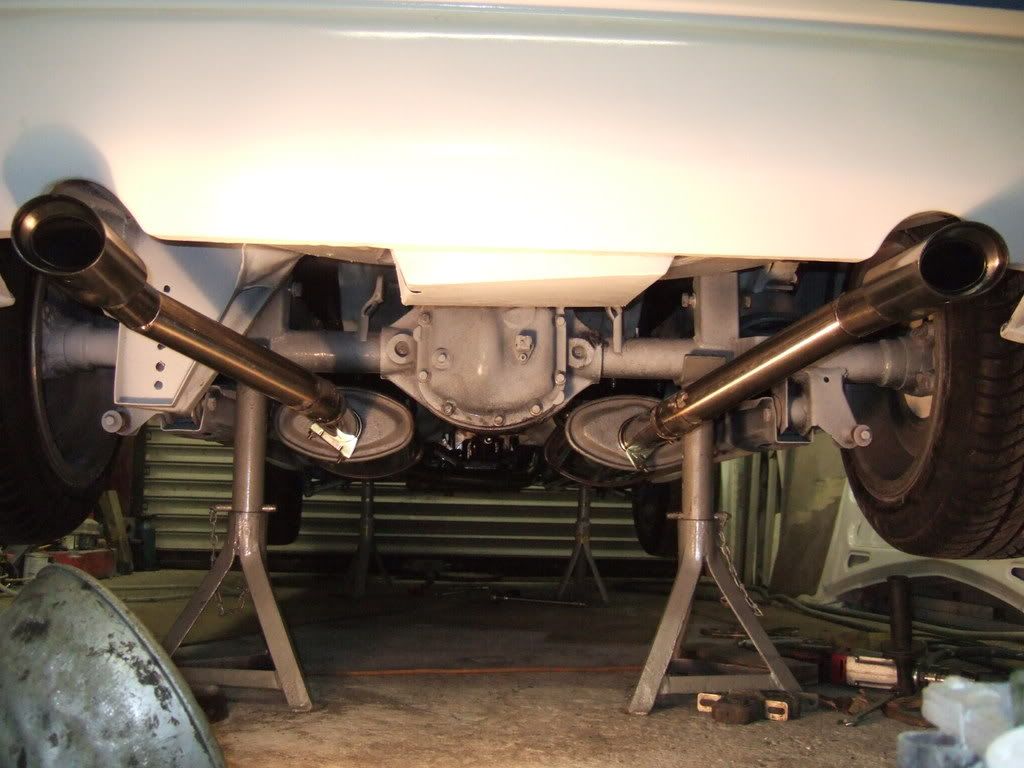 ....Strut brace copied from works spec one except longer triangulation to reach new bulkhead position and wider spaced strut top sections to suit new centres with additional anti-flex fixings, beginnings of aluminium cowl ahead of SAAB 9000 radiator where intercooler will be housed later, starting to wire chassis electrics (separate loom for engine management already completed)...
Dash panels copied fairly closely in aluminium from original works ones... its all these little bits and pieces that take all of the time, note the additional tie plates on the front cage legs to help put as much structural stiffness into the car as possible....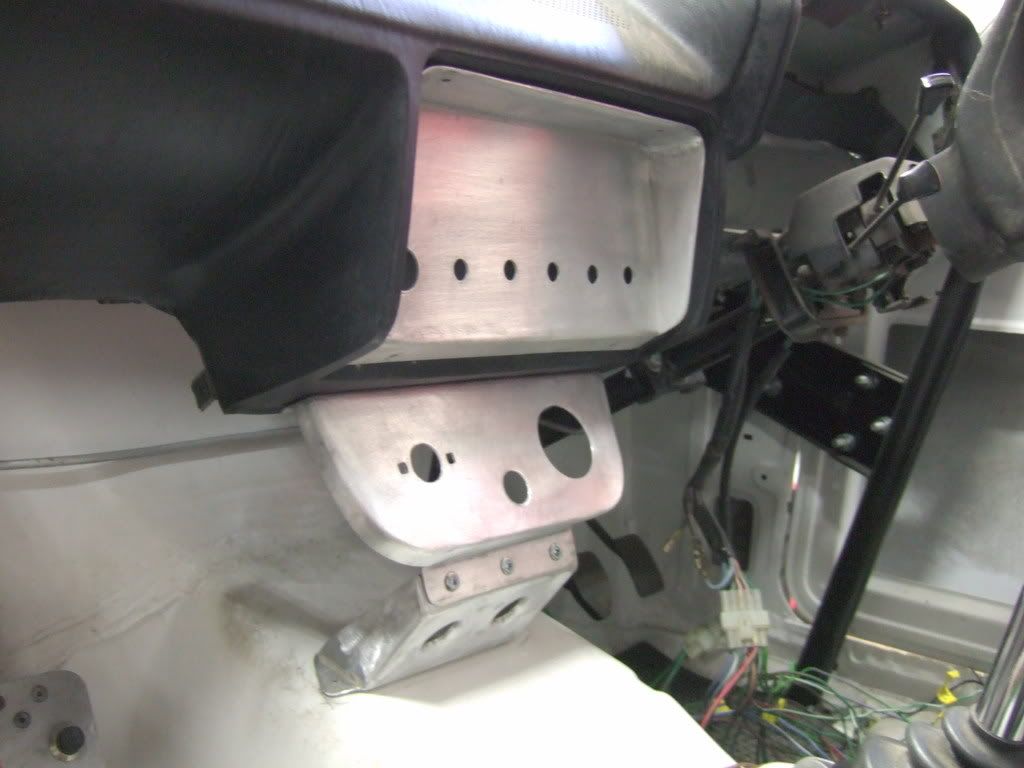 ...just finished and road legal. Photo taken in the car park of the factory offices at Linwood where these were built.
...and first time out..... only a few minor tweeks to do...but going really well...